Digital camera lenses range from small, built-in lenses with fixed focal lengths to large, interchangeable zoom lenses. A camera's lens impacts the design and operation of the camera, and we have listed the four primary lens types below.
Fixed-focal-length lenses offer no optical zoom feature, so limit your choices to autofocus cameras with this type of lens. This lens type, often found on entry-level "point-and-shoot" cameras, does offer several benefits. It enables the design of compact cameras that are inexpensive and simple to operate. Furthermore, these lenses are generally good for group shots and landscapes because they offer a relatively wide viewing angle. However, the optical quality of these lenses tends to be fairly low, and they cannot zoom in close to photograph distant objects. In addition, these lenses can't usually accept filters or converters for other focal lengths. If you buy a camera with this type of lens, look for macro and landscape focus features, as well as a digital zoom feature that can produce enlarged images of slightly reduced visual quality.
Retractable zoom lenses are stored in the body of the camera; they extend when the camera is powered on. These lenses enable the design of portable, compact cameras that have built-in covers to protect their lenses. However, their zoom range is fairly limited and, like fixed-focal-length lenses, they usually don't accept lens converters or filters. These relatively rugged cameras are well-suited for travel photography.
Fixed zoom lenses are affixed to the body of the camera rather than being stored in the camera body. These lenses have a wider zoom range and usually have threads to accept filters and lens converters. Cameras with fixed zoom lenses usually offer advanced features, including precise manual focus and zoom control via lens rings rather than buttons. Nevertheless, these lenses necessitate a larger, more bulky camera design and more complex camera settings. Cameras with this type of lens may also include a digital zoom feature. Business users and serious amateur photographers tend to prefer cameras with a fixed zoom lens.
Interchangeable lenses are detachable lens systems that are used with both film SLR cameras and digital SLR cameras. These lenses offer high quality optics and the flexibility to handle many photographic situations. However, these lenses are bulky and expensive. High-end SLR cameras with interchangeable lenses are favored by professional photographers and serious amateurs. A special type of lens, the macro lens, is used for close-up photography. With their wider range of focal lengths, macro lenses can focus on detailed subjects only a few inches away!
Camera Lens Manufacturers
Each digital camera offers its own line of lenses, and the following companies also offer lenses that can be used with multiple camera bodies.
Sigma Photo is a Japanese-based manufacturer of camera lenses.
Tamron offers interchangeable lenses for a wide range of 35mm SLR cameras.
Tokina manufactures a broad line of autofocus and manual focus converter lenses.
---
Copyright © Zeducorp.
All rights reserved.

Digital Camera Lenses
Smartphone Camera Lens
Related Lens Image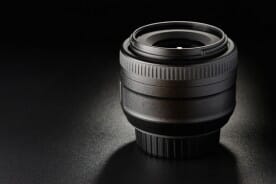 Camera Lens